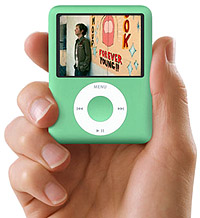 There's a new iPod in town and it's a beauty! Apple's new iPod Nano is a revelation - not just a music player, the new iPod Nano gives you movies, TV shows and video podcasts too.

Oh yes, everyone is going to want one of these, and we are giving one away!

The iPod Nano is now smaller, sleeker and more versatile that ever. It has a bigger, brighter display, and will give you up to 5 hours of video playback or 24 hours of music playback before it needs recharging. Apple have also upgraded the iPod's software so it's also easier to use than ever before.
All orders placed before February 29th 2008 will be entered into our prize draw.
Congratulations to last months winner: Mathew Hollingdale - Hampshire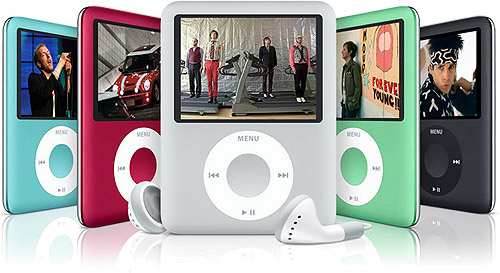 Previous winners include: Mr Anthony Payne (AJP Building Services) - London Jarrod McCormack - Manchester Mr Mohamed Salam-Kahn - Stevenage Marie Brooke - Newcastle-upon-Tyne Lisa Ashe - Surrey Alan Avery - Surrey David McBride - Edinburgh Mr Mark Hammond (AMH Plumbing Services) - Pembrokeshire Mr Gregory Hartwell - Bedfordshire David Huntrods - County Durham Mr Desmond Lopeman - Bristol Mr M Roberts - Nottinghamshire Mr Graham Bailey - Birmingham Hubbard Plumbing & Heating - Aldershot Mr Richard Hale - Reading Mrs Anita Maguire - St Albans Mr J Thind - Teeside Mr stephen minnis - Norwich Christian McArdle - Reading Tim Darby - Cambridge Jason Holme (Holme Plumbing & Heating Ltd) - Lincoln D Thatcher - West Wickham in Kent G Reed - Travistock Richard Alcock - Northamptonshire David Morgan - Telford Kate Howey - Leicester Margaret Sherwood - Argyll Graeme Small - North Humberside John Parkinson - Bolton Peter Jones - West Glamorgan Steve Snaith - Mansfield Kim Lenart - London James Chronej - Ilkeston A Murnaghan - Swindon Paul Chandler (Aquarius Plumbing) - Brighton
The winner will be contacted on the day of the draw to arrange delivery. All decisions of TrueRooms regarding this promotion are final. All dates and times refer to UK time (GMT).